3 Wheel Stallion
Motorcycles for sale
- 12 found
Motorcycles
2009 Thoroughbred Motorsports Stallion Trike, This three-wheel vehicle, with 1 wheel in the front
(877) 531-7022
2 days ago
on American Motorcycle Trading Co.
in yet. extremely nice 2008 Thoroughbred Stallion that is a fiberglass body in excellent condition
1 week ago
on ebay.com
automatic with reverse cruise control air suspension ride am/fm/cd/mp3/sat radio tilt steering wheel
1 month ago
ââ?¬¢ Stallion by Thoroughbred-Black Cherry paint ââ?¬¢ 48,822 mis ââ?¬¢ AM/FM Compact disc
1 month ago
2008 Thoroughbred Stallion. 2008 Thoroughbred Stallion for sale. Excellent condition. 26676 Miles
1 month ago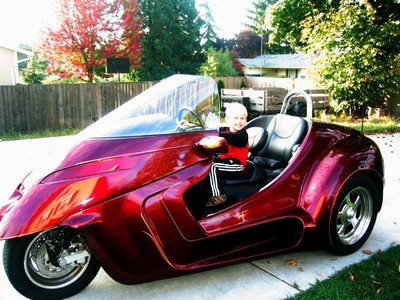 2.3 liter Ford, 150 HP, 155 lbs torque, 5 speed automatic, air lift suspension, 7 cu ft trunk
1 month ago
This three-wheel vehicle, with 1 wheel in the front and 2 wheels in the rear, offers drivers the
1 month ago
Low Miles 2013 Thoroughbred Stallion Trike One Owner2013 Thoroughbred Stallion Trike2.3 L Liquid
1 month ago
MOTORCYCLE/CAR TRIKE 2013 Thoroughbred Stallion Trike ONLY **206** MILES Runs Great Ford 2.3 Liter 5-Speed
1 month ago
of a sports car, but is a 3 wheel trike anyone can drive. Front & Rear Ac unit Has adjustable foot
1 month ago
2008 THOROUGHBRED STALLION TRIKE! 2.3L fuel injected - Ford Focus GT engine, 150 H.P. l55 ft. lbs
1 month ago
2010 Indian Chief Dark Horse - RARE STALLION - BOMBER - DARK HORSE - 3200 MILES!! 2010 Indian Chief
1 month ago
12 Results for used 3 Wheel Stallion for sale
Craigslist.org is no longer supported.