Enduro 125 Yamaha
Motorcycles for sale
- 102 found
Motorcycles
1972 Yamaha Enduro 125. Appears to be complete, we got is as partial payment for work done. Ready
(404) 914-2735
1 week ago
on ebayclassifieds.com

1979 yamaha Enduro 125, 2000, 00 original miles, great bike to restore, does not run.
(229) 412-3754
1 month ago
on ebayclassifieds.com
1974 RD60 & 1981 DT125 These bikes were a recent barn find. Other than the RD60 missing its
2 weeks ago
on ebay.com
Nice old bike, has been in barn for 15 years, has clean oil, not frozen up, no key, have not tried to start it, would not know how. Pickup only, zip code is 98370. Please call me at 360-204-1139 for further questions…
6 days ago
on ebay.com
Up for sale is my 1980 Yamaha Enduro 125 2 stroke, its a rare bike to come across especially in
1 month ago
on FreeCycleShopper

For sale is a 1973 yamaha 125 enduro. The bike starts and runs great. The transmission and clutch
1 month ago
on ebay.com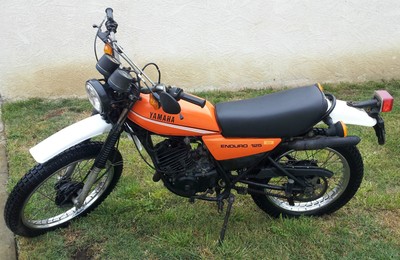 Vintage 1980 Yamaha DT125 Enduro Currently registered in Arizona until February 2016 I purchased
1 month ago
on ebay.com
Nice running little bike with all directionals NO title. Bos. Really nice original shape. Call
1 month ago
on Find Any Cycle
102 Results for used Enduro 125 Yamaha for sale
Craigslist.org is no longer supported.