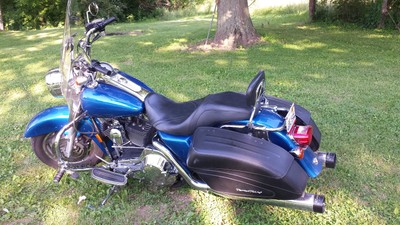 This is a used 2005 Touring Road King. It has low mileage of 19,868. Its in good condition. There is a chip on front fender. The front tire needs to be replaced soon. It needs a oil change soon. This bike runs good.…
2 weeks ago
on ebay.com

I have a 2008 Crossbones for sale. It has approx. 16k miles on it. It includes security system, newer tires, detachable windshield, and backrest. Blacked out turn signals, and crash bar. Bike has been taken well care of, and never been laid down. 11000 or bo…
2 weeks ago
on ebay.com

2003 Bourget LowBlow. 124 cubic inch engine, 5 speed transmission. Everything works, maintenance performed when due. Silver Tribal Paint by Deano. This bike will start and go anywhere you want to go without any prob…
2 weeks ago
on ebay.com

I have a road king classic for sale. It has approx. 33k. This bike has Cruise, True Duals, headlight rings, detachable windshield, sissy bar, and luggage rack. I have 14 inch ape hangers that fit just right. I also have the oem handlebars. . Serious inquires only…
2 weeks ago
on ebay.com

Springfield IL. Suzuki Intruder LS1500 1 owner 55k miles shaft drive cruize control winshield 2into 1 side burner exhaust sounds great runs great looks great.
2 weeks ago
on ebay.com

2013 ultra limited , 3500 miles on 110th anniversary bike , like new very good condition. Serious buyers, Thanks for looking This ad was posted with the eBay Classifieds mobile app.
(309) 275-3729
2 weeks ago
on ebayclassifieds.com
2006 Harley Davidson Night Train Cruiser 2006 Nightrain by Harley Davidson, stopped production on these bikes after 2006. This bike no longer available. Spent over 3200 on the front and back rims, pipes are vance a…
Today
on bikes
Hi. I purchased this bike for a trip I took last year and it performed great as would be expectednbsp from a BMW GS. The bike still has many miles left to go. Metzler Tourance tires are about 50. Service was done 15…
2 weeks ago
on US Easy Ads