This bike is FULLY CORBONIZED and FULLY LOADED with less than 6800 miles.This beauty is yellow in color and has been covered and kept in a heated garage on a battery tender. Accessories include a Corbin fairing windshield, saddlebags, rear fender, seat with smugglers box with option of second seat and back rest.…
1 week ago
on WSPA Classifieds
Has Mustang seats with driver back rest and much more...16k miles
1 week ago
on Oodle
This 1999 Boss Hoss '57 Chevy trike couples the iconic fins of one of the most recongnizable cars ever produced with the thrill of a V-8 motorcycle. The trike features a factory 350ci V-8 GM engine making almost 400…
1 week ago
on Classified Ads
Here are some features: 100 Cubic Inch Engine - 1634cc Fly Bar Handlebars Flame Grip Handles Arlen Ness Mirrors Removable 14" Custom made flame/chrome Luggage Rack Bike has (2) Ignition Keys Chrome Gas Cap wi…
1 week ago
on Classified Ads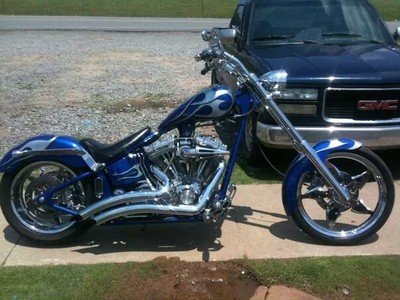 88 cui twincam. Custom Harley Davidson Softail. 7330 miles. Immaculate condition. Never wrecked. Blue LED lighting. 200 series rear tire. Was assembled and built by Landers Harley Davidson in Bryant, Arkansas. Love the bike but never ride. Located in Scott, AR.…
1 week ago
on ebay.com

Beautiful Burgundy Bike! It has a very smooth ride for comfortable touring with unbelievable power and speed! Detachable saddle bags.
1 week ago
on ebay.com
CB-Headset-MP3-CD-Stereo Saddlebag Liners
1 week ago
on WSPA Classifieds

Here is a neat old custom Sprint that runs and rides well. Like-new Pirelli tires, front and rear. Matching numbers, engine and frame. The paint is rough on the tank but I have left it that way because of the unusua…
1 week ago
on ebay.com