LIKE NEW NEW TIRES WINCH SNOW PLOW ONLY 53 HR AND 133 MILES
(530) 885-7105
1 week ago
on Motorcycle Classifieds

This is a great cruiser. Comfortable ride, shaft drive, water cooled V Twin 1100 CC. Always garaged or covered. Never down. Small road ding in side of tank. I must sell as I can no longer ride due to health reasons.
2 weeks ago
on ebay.com
This is annbspgreat Bike,nbspcomfortable riding and the motor is in fantastic condition.nbspnbsp
2 weeks ago
on US Easy Ads
2013 Custom Softail,nbsp Revtech 100" Motor, 6 gear Ultimal Transmission, Bilet Forward Controls, 250 Rear Tire, SampS SUPER E Carb, Digital Speedometer and Tachometer. Many other custom features. View additional picturesnbspat www.ftpdyno.com.nbspContact with any questions.nbsp…
2 weeks ago
on US Easy Ads

Softail rolling chassis.Rebuilt Harley Davidson Evo engine, New transmission, New frame with MSO, Wide glide front end (used), 21" front wheel, 180 rear wheel, New oil bag, new rear fender, Billet forward controls, adjustable kick stand, front fender.…
2 weeks ago
on ebay.com

Up for auction is a 2002 Kawasaki ZG1000 Concours that is damaged. We took photos of the bike and its damage. The bike went down on the left and damaged the fairing on the left side. There is some damage to the hand…
2 weeks ago
on ebay.com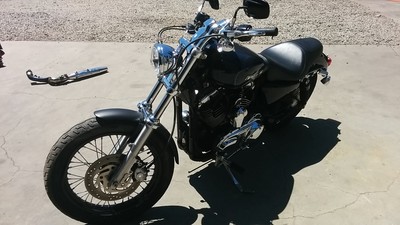 Up for auction is a 2009 Harley-Davidson XL1200C Sportster that is damaged. We took photos of the bike and its damage. The bike hit something on the right front exhaust and also went down on the left side. There is …
2 weeks ago
on ebay.com

Up for auction is a 2011 Harley Davidson Fat Bob that is damaged. We took photos of the bike and its damage. The bike ran went down on the left side and rolled. There is obvious damage to the tank, headlight and rea…
2 weeks ago
on ebay.com