BLACK WITH GOLD TRIM 2008 YAMAHA R1. THIS BIKE IS VERY CLEAN AND NEVER  BEEN DROPPED AND ALWAYS GARAGE KEPT!  THE BIKE FEATURES A 998CC MOTOR WITH FLUSH MOUNTED LIGHTS AND A DUEL YOSHI CARBON FIBER EXHAUST.
Today
on Motorcycles for sale

Up for sale is a better than new Suzuki DR 650 SE. This bike was purchased last fall and has a little more than 800 miles on it; perfect, mint condition. The bike has never been off road. It comes with factory owner…
1 week ago
on ebay.com

Condition: Like new, low mileage, gently used, no scratches or mechanical problems. Features: Harley Davidson Saddle bags, after market break handles featuring the Harley Skull, after market mirrors resembling coffi…
2 weeks ago
on ebay.com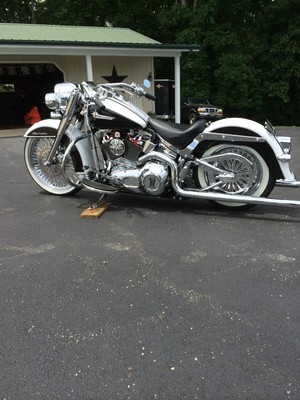 2005 Harley Davidson Softail Deluxe, 21 inch front wheel, Beach handlebars, 36 inch fishtail exhaust, can't get anymore chrome! Buyer is responsible for shipping. $1000.00 deposit within 24 hours. This motorcycle is in excellent condition with NO scratches.…
2 weeks ago
on ebay.com

Beautiful bike, purchased brand new! Excellent condition, has been garage kept, never in rain.Everything is factory. We are selling because we have no time to use it.
3 weeks ago
on ebay.com
Heritage Softail Classic MODERN SOFTAIL COMFORT WITH A STABLE OF TOURING ESSENTIALS. Remember staring at the clock in school? Counting the seconds until it struck freedom? Owning a Heritage recalls those days. You c…
(304) 523-1340
1 month ago
on Motorcycle Classifieds
Softail Custom A Twin Cam 96B engine and chopper-inspired styling make it the ultimate ride for the laid-back rider.
(304) 523-1340
1 month ago
on Motorcycle Classifieds
For sale- 200cc, holds up to 250 lbs. Goes 25-30 mph. New, it's been ridden less than an hour. Asking $550. Call me at (606) 932-6304 if interested — ask for Michael. THIS IS LIKE BRAND-NEW. MUST SELL DUE TO SICKNESS~! EMAIL ADDRESS - heather_nichols74@yahoo.com .…
(606) 473-4868
1 month ago
on Classified Ads